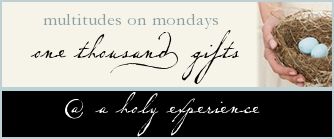 22. Health today (and Purell yesterday at the Children's Museum!)
23. This gift of prayer - to receive it and to give it.
24. Loving hard and sometimes tough
25. Stick swords and a homemade flag flying in the backyard
26. Whistling of my husband - is there a better sound?
27. Being spontaneous!
28. Cousin antics
29. A long-anticipated movie date, replete with candy and slushies
30. The dog with a slipper over her face - thank you for this laugh, Father!
31. Midnight rain
32. One o'clock scary dreams that dissolved and invited a warm snuggle
33. Your Spirit, always.
34. This early morning, where husband kisses with travel mug in hand and goes to work. A job, thank you!
35. This fight of faith - such a good fight to fight! And victorious already...(1 Timothy 6:12)