My little sister has a big bump.
A scary looking bump. It can't help but draw the eye down towards her belly.
It gets me excited for her every time we talk on the phone, this new life in her named Baby Lillian. It also stirs up those nostalgic "remember when's."
As is always the case with me, even my nostalgia is plagued by misplaced mother-guilt. Just ask my little sister, she'll tell you all the ways I regret my mothering of babies - the hurrying of time, the rigor of schedules, the stiff rigidity that could not consider a bottle of formula or a snuggle in bed with Baby. Then, the extreme swing in the other direction, where I rocked at the cost of any other priority, as if to make up for lost time.
But when I look back, I realize that lack of time was never the real problem.
Being present
in those moments was the problem. My biggest regret in all of life - not just in early motherhood, but in every stage, every day - is in not being thankful for
this
. Right now, the
this
is a quiet moment at a dark desk, my face glowing in the reflection of a screen...sounds of kids settling into bed interrupting my already distracted thoughts...this sticky laptop that must have been witness to a lollipop annihilation...scrub that tomorrow...the smell of fresh paint lingering (and I secretly like it)... If I could say it loud without disturbing drowsy Littles, I'd shout it: I'm thankful
now
.
Isn't this grace, that I have been given this moment, and the hard ones too, not to be hurried or accomplished or checked off the to-do list, but to be
lived
? Even this, I cannot do apart from Another, who wants me to have "life and have it abundantly" (John 10:10).
"I watch the hands move grace on the clock face. I'm growing older. These children growing up. But time is not running out. This day is not a sieve, losing time. With each passing minute, each passing year, there's this deepening awareness that I am filling,
gaining
time." -Ann Voskamp,
One Thousand Gifts
, page 77
This life is not to be endured, but to be lived. Abundantly. Remind me of this during my next root canal and you just might see an example of
un
grace. For sure, this abundant life is not done without Him. He makes purpose out of my irrelevant moments, sense out of my nonsense, gratitude out of tantrums, and even joy out of my regrets. Gaining time today, and praying you are too.
Resting in this Eternity,
Karen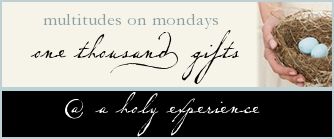 If you haven't visited here in a while, let me explain: each Monday, I meet with hundreds of other women who are pouring gratitude out in journals, keyboards, and the backs of receipts. It's lifted my eyes upward, where I rejoice for crazy things like spilled paint and floss. If you would like to start your own list, you can start your own at
A Holy Experience
.
69. this goofy sticky keyboard (my finger keeps getting stuck on the ssssss)
70. puppy antics
71. good books piled high
72. fresh paint and wallpaper, and my mother who inspires, motivates, and mops up my spilled paint
73. this man I love, who comforted Punkin the best way after those puppy antics chewed up her artwork - with time, affection, and scotch tape
74. Dr. Gray, the dentist Sugs loves
75. nightly "rocket ship" rides to the top bunk and little kid vows to come home from the moon in the morning
76. a smilebox from Japan that made me, well, smile
77. Pizza with grandparents
78. Three squirt bottles and all the giggles they produced tonight
79. Willing listeners who allowed me to share so securely
80. A real tea party
81. Early morning coffee with Real Gil
82. the Bread of Life - a perfectly satisfying and strengthening meal
83. gusts of wind and these strong walls that shelter me tonight
84. the whimsy of Grandpa eating a lollipop
85. teachers like Miss Diedre, Mr. Nelson-with-the-guitar, & Miss Melody
86. staged fights (with swords and nunchucks) at noon that had us all laughing
87. snowballs thrown at our departing car and kids laughing at Grandpa
88. the long, lulling rock in a rocking chair (How long has it been since I did that?)
89. cheers at church
90. My mother-in-law cooking and serving while I...set the table?
91. Little Sister's baby bump